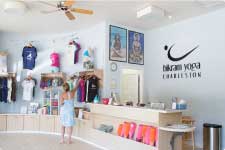 LADIES: LaLaLand Comfy Wear is IN the building … and it is CUTE! Come in to the studio and check out the new shorts, capris, LaLa tops and tube tops. This line is made from the best fabric I have ever found in yoga attire: Stretchy, super soft, durable, comfortable and, of course, really great colors and prints.
And, we now sell WAY mats — they are soft, extra wide and extra long, cling to the floor, light and absorbent. I practiced on one today and loved it!
MEN: the bright orange (tight) yoga shorts still need a home. Reduced to $10 in the Grab Basket!
See you in the hot room —
Namaste.