Thanksgiving Schedule
Wednesday, Nov. 23: 6:30am, 8:30, 10:30, 12:15 Yin, and 4:30 ONLY
(no 6:30pm)
Thursday, Nov. 24: 8:30am ONLY
Friday, Nov. 25: 8:30, 10:30 and 4:30 ONLY (no Pilates)
BLACK FRIDAY (& SATURDAY) SALE
On Friday and Saturday after Thanksgiving, Nov. 25 and 26, we will be having our Biggest Black Friday Sale Everrrrrrrr! Just about everything will be on sale, including classes, clothes, mats, water bottles. Gift Certificates available.
Come in for class and take a moment to start your holiday shopping! Friday classes are 8:30, 10:30 and 4:30. Saturday classes are 8:30 and 10:30. The lobby will be open for shopping between classes AND until 1:30 on Friday and Saturday.
SALE DETAILS:
Class Packages: 10, 30, Monthly Unlimited: 15% Off
Annual Unlimited: 10% Off
Apparel: 25% Off
Way Mats and Ufit Towels: 25% Off
Water Bottles: 10% Off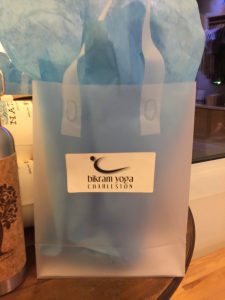 Cork Mats: 10% Off
Some class sales will be available online. You can also call Hannah at 843.884.3737 to make a purchase over the phone.
Hot Tip: If you are hoping to RECEIVE a BYC gift this year, forward this email to your spouse, friend, etc!
IT'S A GREAT TIME FOR GIFT CERTIFICATES!